A group of researchers at MIT  CSAIL (Computer Science and Artificial Intelligence Laboratory) have come up with a handy plugin for Firefox called list.it. Their goal was to create a very simple note taking tool that wasn't overly cluttered with an abundance of bells and whistles most people didn't need or use.
I've been using list.it for several weeks now and am liking it more and more. The plugin resides in the sidebar of the Firebox browser window. I generally leave the sidebar open, keeping list.it displayed, but you can open or close it as you wish. Close the sidebar by clicking the "X" on the title bar. Open it by going to the View Menu and choosing list.it from the Sidebar sub-menu.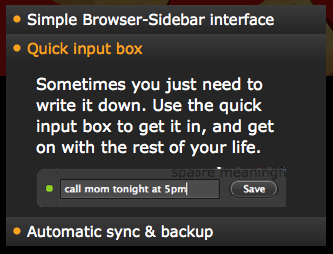 The list.it sidebar is a great place for making notes to yourself about all kinds of things. I used to keep my book wish list on various scraps of paper—now I keep it on list.it. It's also handy for keeping track of websites, such as tutorials or webinars, that I know I want to get back to but don't need or want to bookmark. A quick drag-and-drop of the URL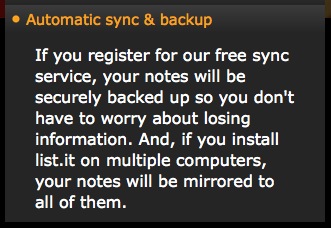 and it's on my list.
What makes this really work are the synchronization and search capabilities. Sign up on the list.it website and you can synchronize your list across the web, making it easy to access from both your office and home. No need for scrolling if your list gets lengthy. Type in an appropriate keyword, or phrase, into the search bar and list.it will sort out the related items for you.
Visit the list.it website to learn more.
Latitudinal Information Scrap Trapper that Indexes Things
Requires Firefox 3.0+ and is available for GNU/Linux, MacOS X and Windows